Olleros Chavin Trek 3 days - group departure
Easy 3-day trek from Olleros to Chavin, one of the most important archeaological sites in Peru, which we of course visit on the third day.
The steady gradual climb towards the Yanashallash Pass makes the trek rather easy to conquer. The main tempel in Chavin is dated back to 1200 BC and ist the most important pre-inka culture in Peru. (As a comparison: Machu Picchu is from ca. 1470 AD!) This trek combines adventure with culture and is relatively short. This combination makes it a very popular trek in the Huaraz region.
INFORMATION:
- Chavin de Huantar (normally visited on day 3) is closed on Mondays. If your tour start on a Saturday, you would have three options: leave out the visit (you can see part of the site partly from the outside and complete from the trail leading to Chavin), do the trail backwards (the 1st day would be quite a steep uphill) or ultimately, change your travel date.
Information about this trek in private service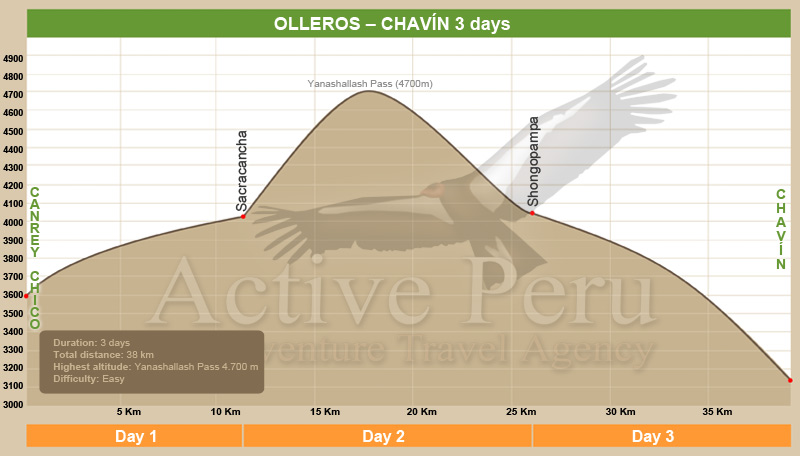 Day-per-day itinerary

Tent

Breakfast

Lunch

Dinner
Day 1
Transport Huaraz - Olleros (3450 m). Hike to Sacracancha (4080 m).
Distance: 30 km (Transport). Hike 15 km.
Walking time: 5-6 hours
Day 2
Sacracancha – Yanashallash-Pass (4700 m) - Shongopampa (4088 m).
Distance: 11 km
Walking time: 5-6 hours
Day 3
Shongopampa - Chavin de Huantar (3140 m).
Distance: 10 km
Walking time: 3,5 - 4 hours
Included:
Private transport from/to your ho(s)tel.
English speaking official guide
Cook (> 3 participants, otherwise guide cooks)
Donkeys & donkey drivers. Approx. 7 kg per client.
Good and varied food (vegetarian option)
All camping equipment and cooking/eating utensils.
3 or 4 Season sleeping tents. (3 person tents with additional fly storage for every 2 clients, Salewa, Mountain Equipment Coop, Northface, .)
Thermarest self-inflatable mattresses.
Emergency horse (>3 participants).
All entrance fees.
First aid kit & oxygen bottle.
Not Included:
Additional beverages or meals in villages
Breakfast on the 1st and dinner on the last day
Return or abortion otherwise as planned itinerary: transport & possible accommodation costs (also for staff)
Personal mountain equipment such as trekking shoes, rain/wind jacket/pants, hat, gloves, sunglasses etc.
Sleeping bag (more info)
---
FAQ group departures:
What days can start the group departures

Departures can be on the day of your choice.
Can we book on-site?
The quality of the tours sold in Huaraz (99%) are not at the level of our minimum requierements (general quality, proper payment of staff, sudden extra costs, unwanted surprises, ...). In order to organize a trek properly, get one of the better guides etc. it is very much recommendable to book well in advance. Needless to say that left-over guides, cooks,… are not usually the best. For these reasons, to start a new group departure, you have to book at least 4 weeks in advance in order to give us a chance to look for more participants over the internet.
Hotels, Bus before/after trek?
We can also organize transfers, hotels in Huaraz or other cities, packages in the rest of the country etc. If you would prefer more services, from the airport in Lima for example or a complete Peru travel package, please let us know.
How many days acclimatization do we need before starting the trek?
We recommend at least 1 full day (2 nights) on altitude before starting the trek. If you have been on altitude in the South of the country before (Colca Canyon, Puno, Cusco – all on altitude) or in Huaraz you shouldn´t consider this anymore and might as well go to the trek immediately after arrival to Huaraz.
Can you accommodate food sensitivities?
Our cooks are used to dealing with vegetarians and vegans.
Back