Information
Cultural traveling, hiking, climbing and adventure travel, Peru has a lot to offer. Through the three regions that exist in Peru, Peru is a diverse country with its beautiful beaches on the coast, the imposing mountains in the Andes and the tropical rainforests of the Amazon.
Active Peru Treks Cusco Roxner Trekking Holidays
Organised Trekking tours in Huaraz, Cusco, Arequipa. Cultural holidays highlight of Peru. Travel packages Luxury travel hotel bookings group departures. Active Peru Treks Cusco Roxner Trekking Holidays Best travel in Peru. Hiking and trekking in the Cordillera Blanca and Huayhuash. Vilcanota Ausangate. Cusco and Machu Picchu

Treks Cusco Roxner Trekking Roxner Salkantay Trek to Machu Picchu, Choquequirao Trail, alternative Lares Trek, Ollantaytambo to Aguas Calientes.

Bus to the Huacachina Oasis, Roxner Paracas Peninsula & Ballestas Islands. Trips from Lima. Nazca Lines night bus to Arequipa. Colca Canyon and Misti Vulcano. Chachani Climb, Copacabana to Sangalle Trek in the Colca Canyon. Bus Chivay to Puno and Lake Titikaka. Taquile Island and Urus floating reed islands. Inka Express bus to Cusco or Andean Explorer. Andahuayllilas Church.

Active Peru Travel organizes group tours as well as individual tours through Peru. We offer ready-made tours but you can also compose your own tour entirely to your liking and budget. You can also add packages to a tour that already exists.

Team: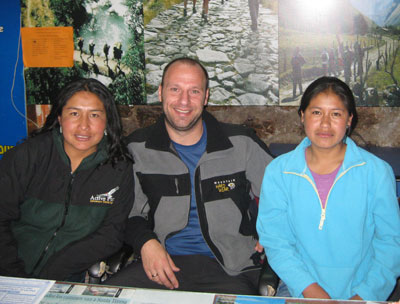 Active Peru selects its partners, hotels, transportation and staff carefully so they can give the customers the best service. We combine luxery with adventure.
On our website you can find the following information:
Information: General information about Active Peru Travel, tours in Peru and preparations for traveling in Peru.
Cultural Travel: Ready-made tours around Peru
Adventure holidays: Adventurous hiking trails and mountain climbing around Peru. Here you can find both ready-made tours and packages with which one can build his own vacation.
Contact: For questions or additional information you can here find the contact details of Active Peru Travel.
If you have questions please contact us and we hope that in the future we can offer you a great holiday in Peru.
Below you find links to different options for traveling in Peru. These you can also find in
Cultural Travel
and
Peru Adventure
.
Traditional Peru Holidays:
•
21 days: Lima, Ballestas, Nazca Lines, Colca, Titicaca, Cusco & Machu Picchu, Amazon Jungle
•
13 days: Lima, Colca, Titicaca, Cusco & Machu Picchu
•
... more traditional Peru holidays ...
Peru Active & Adventure Holidays:
•
Cusco, Inca Trail & Machu Picchu, Santa Cruz Trek, 15 days.
•
Cusco & Machu Picchu, Huayhuash Circuit, 18 days.
•
Cusco & Machu Picchu, Olleros - Chavin Trek, Santa Cruz Trek, 16 days.
Trekking in Peru:
(overnight in tents)
•
4 days Inca Trail
Who hasn´t heard of it yet?
•
4 days Salcantay Trail
The Inca Trail alternative
•
6 days Choquequirao Machu Picchu Trail
more than the usual
•
11 days Huayhuash Circuit
world-class
•
9 days Alpamayo Trek
world-class, classic trek
•
... more treks ...
Climbing in Peru:
•
Pisco (5.752)
Ideal starter mountain, breathtaking views
•
Chachani (6.075)
One of the easiest 6000ers on earth
•
Alpamayo(5.947)
Often called the prettiest mountain in the world
•
Huascaran (6.768)
The highest in Peru
•
... more mountains ...
---