Trekking Santa Cruz Trek Huaraz - Cordillera Blanca
Santa Cruz Trek - 4 days:
Probably the most widely known trek in the Cordillera Blanca.
And it is true: stunning beauty it is! Ideal for people who don't want to spend too much time in the mountains or have only a limited amount of time. Would you have more time available, you could consider doing the
Huayhuash Circuit
or
Cedros - Alpamayo
trek.
If you're the sort of person that is always among the fastest of a group of trekkers, always walk the minimum estimated hours according to the guide books, you could consider a first step towards mountaineering and ascend
Pisco
(5752 masl) after doing the Santa Cruz trek (with Pisco 6 days). By the time you get to Pisco you will be appropriatly acclimatized and taking pictures back home standing on ice with harnesses, ropes, crampons and so on, look very spectacular. Not to mention pictures taken from the summit.
Duration: 4 days
Highest altitude: 4.750 m (15.584 ft) (Punta Union)
Difficulty: Easy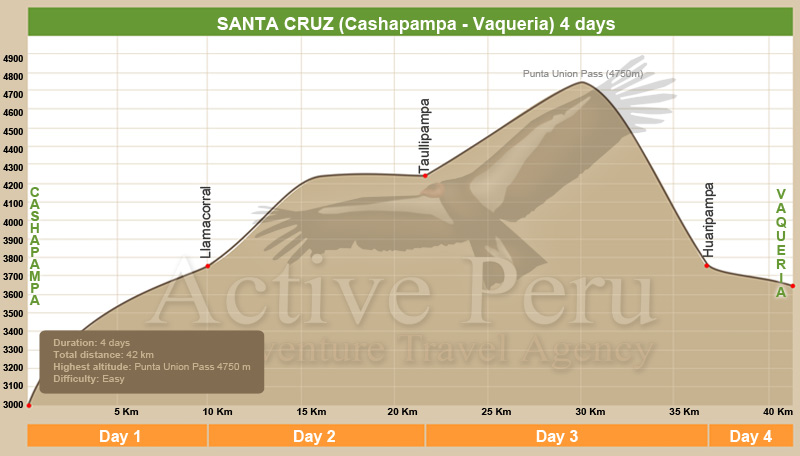 Day-per-day itinerary

Tent

Breakfast

Lunch

Dinner
Day 1
Transport Huaraz - Cashapampa (3000 m). Hike to Llamacoral (3650 m).
Distance: 90 km (transport). Hiking 9 km.
Walking time: 4-5 hours
Day 2
Llamacoral - Alpamayo basecamp (Arhuaycocha Valley) - Taullipampa (4250 m).
Distance: 10 km
Walking time: 6-7 hours
Day 3
Taullipampa - Punta Union pass (4750 m) - Quenual Pampa (Huaripampa Valley, 3700 m).
Distance: 11 km
Walking time: 6-7 hours
Day 4
Quenual Pampa - Vaqueria (3000 m). Transport Vaqueria - Huaraz.
Distance: 6 km
Walking time: 2.5-3 hours
Included:
Private tours: our price system guarantees your departure and only with your team members.
Private tourist transport from/to your ho(s)tel.
English speaking official guide.
Cook.
Donkeys & Donkey drivers. Approx. 12 kg per client.
Good and varied food (vegetarian option, see FAQ below for more info) .
All camping equipment and cooking/eating utensils.
3 or 4 Season sleeping tents. (3 person tents with additional fly storage for every 2 clients, Salewa, Mountain Equipment Coop, Northface, .)
Thermarest self-inflatable mattresses.
Emergency Horse. (>6 people, 2 horses).
All entrance fees.
First aid kit & oxygen bottle.
Not Included:
Additional beverages or meals in villages.
Breakfast on the 1st and dinner on the last day.
Return or abortion otherwise as planned itinerary: transport & possible accommodation costs (also for staff)
Personal mountain equipment such as trekking shoes, rain/wind jacket/pants, hat, gloves, sunglasses etc.
Sleeping bag (more info)
---
FAQ:
Can we book on-site?
The quality of the tours sold in Huaraz (99%) are not at the level of our minimum requierements (general quality, proper payment of staff, sudden extra costs, unwanted surprises, ...). In order to organize a trek properly, get one of the better guides etc. it is very much recommendable to book well in advance. Needless to say that left-over guides, cooks,… are not usually the best.
Hotels, bus before/after trek?
We can also organize transfers, hotels in Huaraz or other cities, packages in the rest of the country etc. If you would prefer more services, from the airport in Lima for example or a complete Peru travel package, please let us know.
Can you accommodate food sensitivities?
Our cooks are used to dealing with vegetarians. However, other clients and staff may have a conventional diet. Meals are prepared in the same tent and scents of meals can not be avoided. if you do not want to eat your meal in the same tent with clients having a conventional diet, please inquire about a private tour.
Back