Trekking Quillcayhuanca Cojup Trek Huaraz - Cordillera Blanca
Quillcayhuanca Cojup Trek - 3 days:
Easy to reach from Huaraz, short and impressive.
One of the prettiest treks in the Cordillera Blanca possible in 3 days when you are well-acclimatized and a rather strong hiker. Otherwise you would probably prefer 4 days. While we work with porters instead of pack animals in these valleys, clients usually find it a bit harder, more adventurous and less luxury goes along (tables, chairs, etc.).
Trekking Quillcayhuanca Cojup Trek Huaraz - Cordillera Blanca
Organised Trekking tours in Huarez, Cusco, Arequipa. Sustainable Travel & Ecotourism in Peru. Cultural holidays highlight of Peru. Travel packages Luxury travel hotel bookings group departures.Huarez. Outfitter adventure travel Peru. Organized Adventure Holidays Quillcayhuanca Cojup South America. Ecotourism. Best travel in Peru. Hiking and trekking in the Cordillera Blanca and Huayhuash. Vilcanota Ausangate. Cusco and Machu Picchu

Peru Hiking Tours, Machu Picchu Walking Tours.Outfitter. Sustainable Travel. Salkantay Trek to Machu Picchu, Choquequirao Trail, alternative Lares Trek, Ollantaytambo to Aguas Calientes.

Huarez Organized Adventure Holidays South America. Quillcayhuanca Cojup. Bus to the Huacachina Oasis, Paracas Peninsula & Ballestas Islands. Outfitter Trips from Lima. Nazca Lines night bus to Arequipa. Colca Canyon and Misti Vulcano. Chachani Peru Hiking Huarez Tours, Organized Adventure Holidays Machu Picchu Walking Tours Climb, Copacabana to Sangalle Trek in the Colca Canyon. Bus Chivay to Puno and Lake Titikaka. Taquile Huarez Island and Urus floating reed islands. Inka Express bus to Cusco or Andean Explorer. Andahuayllilas Church.Outfitter Adventure Holidays South America Huarez. Quillcayhuanca Cojup Sustainable Travel & Ecotourism.

Duration: 3 or 4 days
Highest altitude: 5.030 m (16.500 ft) (Choco Pass, not quite as sweet as Nutella)
Difficulty: easy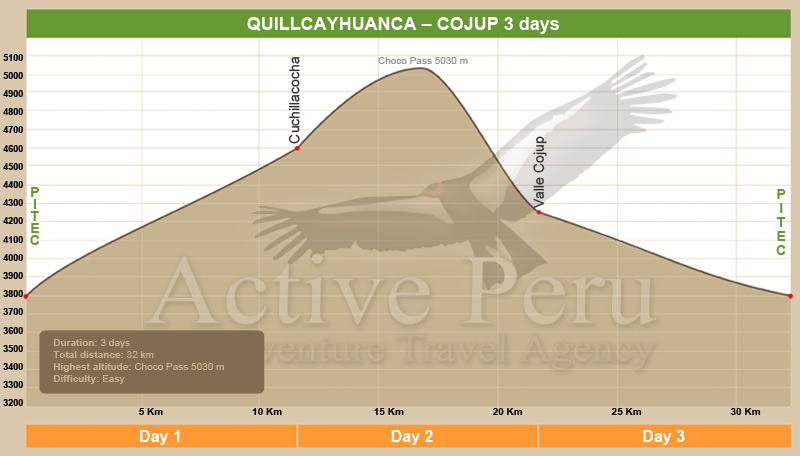 Day-per-day itinerary

Tent

Breakfast

Lunch

Dinner
Day 1
Transport Huaraz - Portada Quilcayhuanca (4000 m). Hike to Lake Cuchillacocha (4625 m).
Distance: 18 km (transport). Hike 12 km.
Hiking time: 6 Hours
Day 2
Lake Cuchillacocha - Choco-Pass (5030 m) - Cojup Valley (4250 m).
Distance: 10 km
Hiking time: 6 Hours
Day 3
Hike Cojup valley - Portada Cojup (4000 m). Transport to Huaraz.
Distance: 12 km. Transportation: 17 km.
Walking time: 4 hours
Included:
Private tours: our price system guarantees your departure and only with your team members.
Private tourist transport from/to your ho(s)tel.
English speaking official guide.
Cook.
Porters for tents, equipment & food. Personal equipment is carried by the clients.
Good and varied food (vegetarian option, see FAQ below for more info) .
All camping equipment and cooking/eating utensils.
3 or 4 Season sleeping tents. (3 person tents with additional fly storage for every 2 clients, Salewa, Mountain Equipment Coop, Northface, .)
Thermarest self-inflatable mattresses.
All entrance fees.
First aid kit & oxygen bottle.
Not Included:
Additional beverages or meals in villages.
Breakfast on the 1st and dinner on the last day.
Return or abortion otherwise as planned itinerary: transport & possible accommodation costs (also for staff)
Personal mountain equipment such as trekking shoes, rain/wind jacket/pants, hat, gloves, sunglasses etc.
Sleeping bag (more info)
---
FAQ:
Can we book on-site?
The quality of the tours sold in Huaraz (99%) are not at the level of our minimum requierements (general quality, proper payment of staff, sudden extra costs, unwanted surprises, ...). In order to organize a trek properly, get one of the better guides etc. it is very much recommendable to book well in advance. Needless to say that left-over guides, cooks,… are not usually the best.
Why is this trek done with porters instead of pack animals?
To provide entrance into the valleys for the donkeys 2 (locked) gates need to be opened. These gates and the unlocking is in charge of people from the local communities. Unfortunately, the people who are responsible are not used to work in the tourist industry (they are very "pristine" to say the least) and several hours delay is commonplace, also after agreement and multiple reminders. They have appeared half a day after the agreed on time more than once and do never ever show any sense of remorse or apology.
It has happened that clients had to wait several hours for the donkey drivers with equipment and food to arrive whereas the campsite would normally have been set up already before the clients arrival. This is a risk we are not willing to take anymore.
As porters can pass those gates in the same way clients do without the need of "a" community member, this is the only way to provide reliable service.
Hotels, bus before/after trek?
We can also organize transfers, hotels in Huaraz or other cities, packages in the rest of the country etc. If you would prefer more services, from the airport in Lima for example or a complete Peru travel package, please let us know.
Can you accommodate food sensitivities?
Our cooks are used to dealing with vegetarians. However, other clients and staff may have a conventional diet. Meals are prepared in the same tent and scents of meals can not be avoided. if you do not want to eat your meal in the same tent with clients having a conventional diet, please inquire about a private tour.
Back