Alpamayo Lookout Trek 5 days - group departure
If you have little more time available and are well acclimatised, instead of doing the 4 day Santa Cruz Trek you can also venture in the much less visited Cedros and Alpamayo Valley. This is a 5 days walk in-walk out trek - the complete
Alpamayo Trek
crossing the Cordillera Blanca which ends in the village of Vaqueria takes 8 or 9 days.
You will get to see the Santa Cruz mountains sitting over lake Cullicocha which is very impressive, Jancarurish lake (pretty color, Alpamayo in the background) and obviously Alpamayo from the lookout point. This lookout point is located on the side of the mountain from where the picture was taken that made Alpamayo so famous (prettiest mountain in the world, very subjective matter though - but yes: VERY pretty).
The best views of the impressive Santa Cruz mountains are from Cullicocha, NOT from the Santa Cruz valley bottom on the Santa Cruz Trek.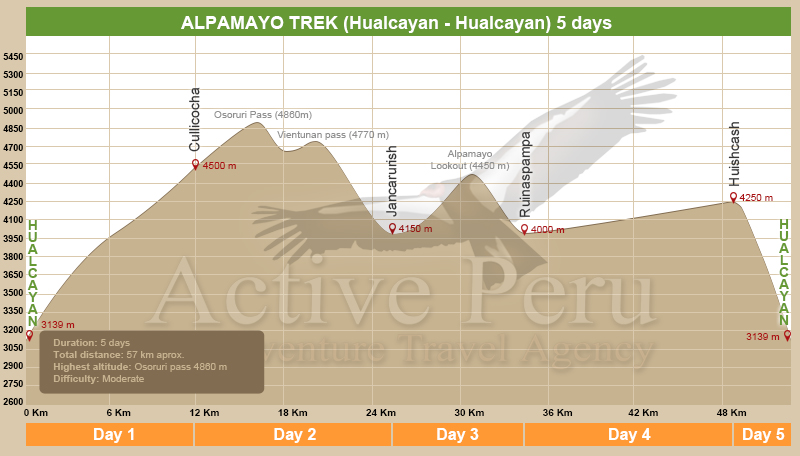 Day-per-day itinerary

Tent

Breakfast

Lunch

Dinner
Day 1
Transport Huaraz - Hualcayan (3139 m).
Hike to Cullicocha (4500 m).
Distance: Hiking 12 km approx.
Day 2
Cullicocha - Jancarurish
Osoruri Pass (4860m). Vientunan pass (4770 m)
Distance: 17 km approx.
Day 3
Jancarurish (4150 m) - Ruinaspampa (4000 m)
Alpamayo Lookout (4450 m)
Distance: 8 km approx.
Day 4
Ruinaspampa (4000 m) - Huishcash (4250 m)
Distance: 16 km approx.
Day 5
Huishcash (4250 m) - Hualcayan (3139 m).
Transport Hualcayan - Huaraz.
Included:
Private transport from/to your ho(s)tel.
English speaking official guide
Cook (> 3 participants, otherwise guide cooks)
Donkeys & donkey drivers. Approx. 7 kg per client.
Good and varied food (vegetarian option)
All camping equipment and cooking/eating utensils.
3 or 4 Season sleeping tents. (3 person tents with additional fly storage for every 2 clients, Salewa, Mountain Equipment Coop, Northface, .)
Thermarest self-inflatable mattresses.
Emergency horse (>3 participants).
All entrance fees.
First aid kit & oxygen bottle.
Not Included:
Additional beverages or meals in villages
Breakfast on the 1st and dinner on the last day
Return or abortion otherwise as planned itinerary: transport & possible accommodation costs (also for staff)
Personal mountain equipment such as trekking shoes, rain/wind jacket/pants, hat, gloves, sunglasses etc.
Sleeping bag (more info)
---
FAQ group departures:
What days can start the group departures

Departures can be on the day of your choice.
Can we book on-site?
The quality of the tours sold in Huaraz (99%) are not at the level of our minimum requierements (general quality, proper payment of staff, sudden extra costs, unwanted surprises, ...). In order to organize a trek properly, get one of the better guides etc. it is very much recommendable to book well in advance. Needless to say that left-over guides, cooks,… are not usually the best. For these reasons, to start a new group departure, you have to book at least 4 weeks in advance in order to give us a chance to look for more participants over the internet.
Hotels, Bus before/after trek?
We can also organize transfers, hotels in Huaraz or other cities, packages in the rest of the country etc. If you would prefer more services, from the airport in Lima for example or a complete Peru travel package, please let us know.
How many days acclimatization do we need before starting the trek?
We recommend at least 2 full days (3 nights) on altitude before starting the trek. If you have been on altitude in the South of the country before (Colca Canyon, Puno, Cusco – all on altitude) or in Huaraz you shouldn´t consider this anymore and might as well go to the trek immediately after arrival to Huaraz.
Can you accommodate food sensitivities?
Our cooks are used to dealing with vegetarians and vegans.
Back