Salcantay Trek Machu Picchu 5 days - group departure
Salcantay Trek Machu Pichu
Machu Pichu Organised Trekking tours in Huaraz, Cusco, Arequipa. Cultural holidays highlight of Peru. Travel packages Luxury travel hotel bookings group departures. Active Peru Treks Cusco Roxner Trekking Holidays.Machu Pichu Trek Inca Trail. Best travel in Peru. Hiking and trekking in the Cordillera Blanca and Huayhuash. Vilcanota Ausangate. Cusco and Machu Picchu

Treks Cusco Roxner Trekking Roxner. Machu Pichu Trek. Salcantay Trek. Salkantay Trek to Machu Picchu, Choquequirao Trail, alternative Lares Trek, Ollantaytambo to Aguas Calientes.

Machu Pichu Trek. Bus to the Huacachina Oasis, Roxner Paracas Peninsula & Ballestas Islands. Trips from Lima. Nazca Lines night bus to Arequipa. Colca Canyon and Misti Vulcano. Salcantay Trek. Chachani Climb, Copacabana to Sangalle Trek in the Colca Canyon. Bus Chivay to Puno and Lake Titikaka. Taquile Island and Urus floating reed islands. Inka Express bus to Cusco or Andean Explorer. Andahuayllilas Church. Machu Pichu Trek.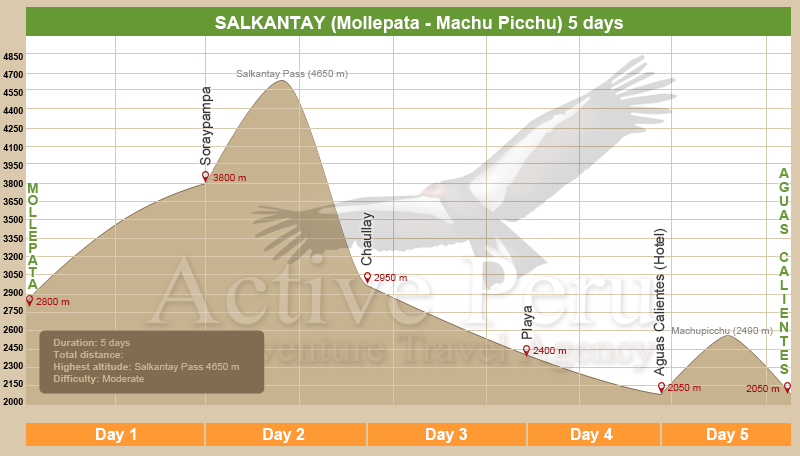 Day-per-day itinerary

Tent

Breakfast

Lunch

Dinner
Day 1
Transport Cusco to Mollepata (2800 m). Hike to Soraypampa (3800 m)
Camping Soraypampa
Day 2
Soraypampa (3800 m) - Chaullay (2950 m)
Salkantay pass (4650m/15.250 ft)
Camping Chaullay
Day 3
Chaullay (2950 m) - Playa (2400)
Camping Playa
Day 4
Playa (2400) - Aguas Calientes (2050 m)
In Santa Theresa a train can be taken instead of hiking to Aguas Calientes (approx. USD 27 per person). If you are in a group trek and the majority of participants chooses take the train (happens rarely), the guide must stay with the majority hence you may be obliged to take the train as well (and pay) or walk the last 3 hours on your own to Aguas Calientes.
Aguas Calientes (Hotel)
Day 5
Aguas Calientes - Machu Picchu - Cusco
If preferred, you can also walk up/down the hiking trail leading to Machu Picchu.
2 hours guided tour of Machu Picchu.
Bus down to Aguas Calientes. If preferred, you can also walk down the hiking trail.
Train back to Ollantaytambo / Poroy. Transportation to the hotel in Cusco
Included:
Transport from/to your ho(s)tel in Cusco.
English speaking official guide
Camping equipment and food is carried by horses/mules. 7 kg per person of personal equipment of the clients may be put on the animals (duffel bag will be provided). Be aware that the animals are only until the third day.
Good and varied food (vegetarian option, see FAQ below for more info) .
All camping equipment and cooking/eating utensils (including mattress).
Accommodation in Aguas Calientes 4th night (camping is now prohibited in Aguas Calientes).
All entrance fees (Salkantay & Machu Picchu).
Bus from Aguas Calientes to Machu Picchu and vice versa.
First aid kit & oxygen bottle.

Not Included:

Additional beverages or meals in villages
Breakfast on the 1st and lunch/dinner on the last day (in Aguas Calientes)
Return or abortion otherwise as planned itinerary: transport & possible accommodation costs (also for staff)
Personal mountain equipment such as trekking shoes, rain/wind jacket/pants, hat, gloves, sunglasses etc.
Sleeping bag (Rental US $ 6 per day)


---
FAQ group departures:
Can the Salcantay Trek be done in 4 days?
Yes, if you are strong and well-acclimatized (Salcantay Pass on the very first day, 4.650 m/15.250 ft).

Why is the 4 day trek almost the same price as the 5 day trek?
Transport to Soraypampa is more expensive and is difficult to join with other clients from Cusco. Unless you have limited time, the 5 day trek will always be better cost-per-day value.

What days can start the group departures
Departures can be on the day of your choice.

Hotels, bus before/after trek?
We can also organize transfers, hotels in Cusco or other cities, packages in the rest of the country etc. If you would prefer more services, from the airport in Lima for example or a complete Peru travel package, please let us know.

How many days acclimatization do we need before starting the trek?
We recommend at least 1 full day (2 nights) on altitude before starting the trek. If you have been on altitude in the South of the country before (Colca Canyon, Puno, Cusco – all on altitude) or in Huaraz you shouldn´t consider this anymore and might as well go to the trek immediately after arrival to Cusco.

Can you accommodate food sensitivities?
Our cooks are used to dealing with vegetarians. However, other clients and staff may have a conventional diet. Meals are prepared in the same tent and scents of meals can not be avoided. if you do not want to eat your meal in the same tent with clients having a conventional diet, please inquire about a private tour.



Back